Locations are unique places in Darkwood, most of them marked with scribblings on the player map.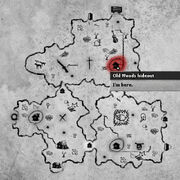 Locations are placed more or less in random fashion within their respective biomes. Gateway locations bridge gaps between biomes and event locations. Event locations, on the other hand, are isolated and devoid of any random generation.
The following is a list of locations.
Common Locations
Edit
The following locations are common in every biome, found fairly often and in numbers. They usually simply contain resources such as Wood Logs and Odd-Looking Mushrooms, but are not unique and have little to no relation to the story.
The Village has no Player Map. As such, the names of the following locations are mostly unofficial.
Gateway Locations
Edit
Event Locations
Edit
Event locations are special areas found in Darkwood. They are separated from the main world with a loading screen, and Time does not pass while the player is in one of these areas. Except for the Dream Sequences and Doctor's House, the player still can be killed by Floor Gore at night.
Traveling Locations
Edit
Traveling locations are often player-induced and can appear just about anywhere.
| | Name | Occurence |
| --- | --- | --- |
| | Lost Inventory | Partial inventory dropped on death |
| | My Body Part | Navigator Skill |
Removed Locations
Edit
Removed locations are areas that used to be found in previous versions of the game, but are no longer present in the current edition. They may have been replaced by something else.
Community content is available under
CC-BY-SA
unless otherwise noted.